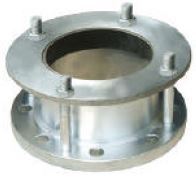 Add to Favorites
Share
Expansion Joints
Payment

Origin

China Mainland

Minimum Order

1

Packing

Pieces
Product Detail
1. Used in a wide variety of piping application to compensate for thermal expansion or contraction and to absorb equipment vibration or pipe motions.

2. Single, two-ply and multiply testable bellows in different sizes using precision forming technology.

3. The bellow is made of stainless steel, whcih have good performance for extreme pressure, temperature and corrosive conditions.

4. Compensate axial movements

5. Optimized design for fatigue resistnce and endurance.

6. Widely used to absorb termal expansion in pipe systems carring water, steam, oil and gases

7. Stainless bellows compensators or expansion joints are designed according to the client's specifications ad design

With the aid of wide experience and expertise, AOGUANG is an ISO9001 certified company specialized in expansion joints. As one of the leading manufacturers and suppliers in China, we warmly welcome you to get buy the quality and precise stainless steel hoses made in China from our factory.
3
YRS
Jiangsu Aoguang Corrugated Pipe Co.,Ltd
China
Favorites